THE ALLIANCE FOR THE DIGITALIZATION OF REAL ESTATE

In 2020, Kaliti decides to work with two SME's, Attestation Légale and AOS - Appels d'Offres Simplifiés - also leading players in their market segments. The aim of this strategic alliance is to provide a simple and complete response to the property development sector which is accelerating its digitization by evolving in a specific environment where multiplying solution often complexifies processes.
This union is based on 3 key stages of the value chain :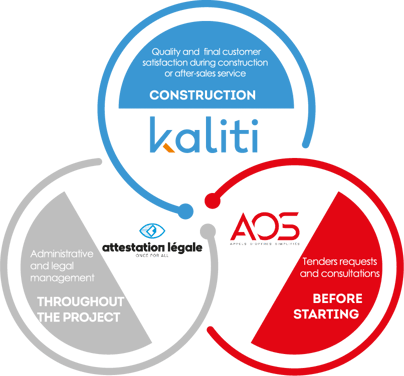 The goal of the 3 companies is to provide the best complementary technologies and experience to their respective customers. In the first quarter of 2020, 65 of the 100 biggest french property developers use at least one of the three solutions as well as many associated professions (Project Owners, Architects, Construction companies, etc.).
The synergy between these actors allows them to offer a customized support to their customers for the change management with operational benefits: save time on a daily basis, improve risk management, optimize profitability, enhance reliability of data quality, etc.